Event date:
September 7, 2014 -

10:00am

-

7:00pm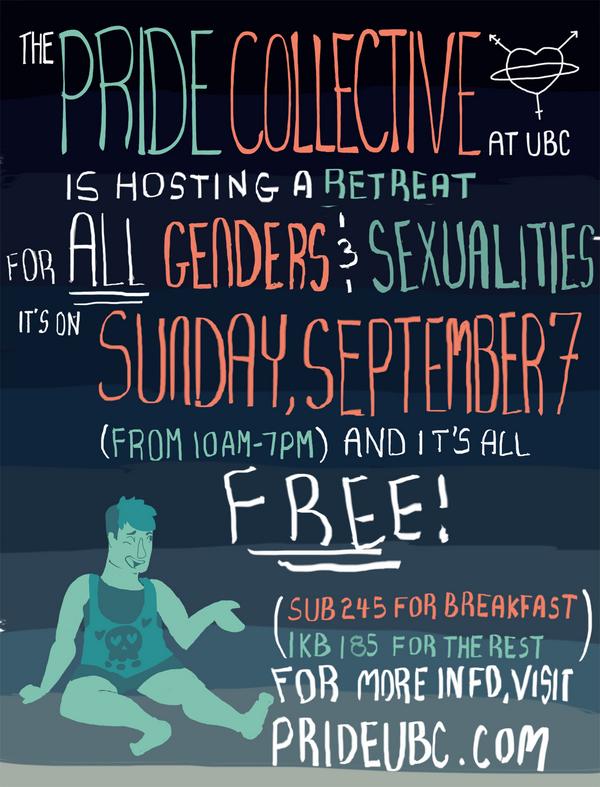 This event can also be found on facebook here.
In the Wizard Of Oz, Dorothy and her little dog Toto get whisked away from their black-and-white cabin, where they were in the middle of nowhere and isolated. Upon opening the door to a new world, they were greeted by a technicolour explosion of fairies, dancers, and tons of free candy. This event is basically that scene, except there will probably be some witches too.
Start your year off right by coming down to our all-inclusive retreat. You'll meet the local queers, get acquainted with the different resources on campus, and probably make a few friends in the process. We've got a free pancake breakfast in the morning at the Resource Group Centre (SUB 245), and it only gets better from there. In-between all of the games and tours we have planned at IKB 185, you'll be getting free lunch and dinner as well. What! We know, right?
At the end of the day, if what you've seen of the collective has you wanting more, then stick around for a runthrough of the collective. You'll be able to find out more about the dozens of ways you can get involved, even if you have a busy schedule!
While we can't promise ruby-red slippers, the start of a new year is always an adventure, and we're here to help give you the confidence and friends you'll need to make the most of it. Everyone's yellow-brick road is a different, winding path, but you'd be surprised how often they intersect if you look.

Below you'll find a schedule for the day. The event is all day long, but anyone and everyone is free to pop in and out at their own comfort.
If you're mostly wanting to find out more about us and how you can get involved in the events, art, and politics we do throughout the year, then your best bet would be to stop by around 6, where we'll be talking about just that!
@ Resource Group Centre, or Student Union Building Room 245
10-11: Pancake Breakfast
@ Irving K Barber Center Room 185
11-12: Intro to Pride and introducing each other
12-1: Team Building, Cheer-making, and Flag Face-Off
1-2: Lunch
2-3: Totally Queer Game-off
3-4: Game-off Awards Ceremony
4-5: Choice of Casual Game-off, Crafternoon, and/or Queer Resource Tour
5-6: Dinner & Chill Time
6-7: Informational Meeting & How to Get Involved

Being at UBC, the event is taking place on unceded territory of the x ʷməθkʷəyəm (Musqueam) people. Please be mindful of the history behind this land, and the struggles faced today as a result.
All rooms at this event are wheelchair accessible, and we encourage everyone to respect those with more sensitive noses to not come to the event wearing perfumes or colognes. We will not have a signer at the event, and apologize for any inconveniences this may cause.
We hope to see you there!